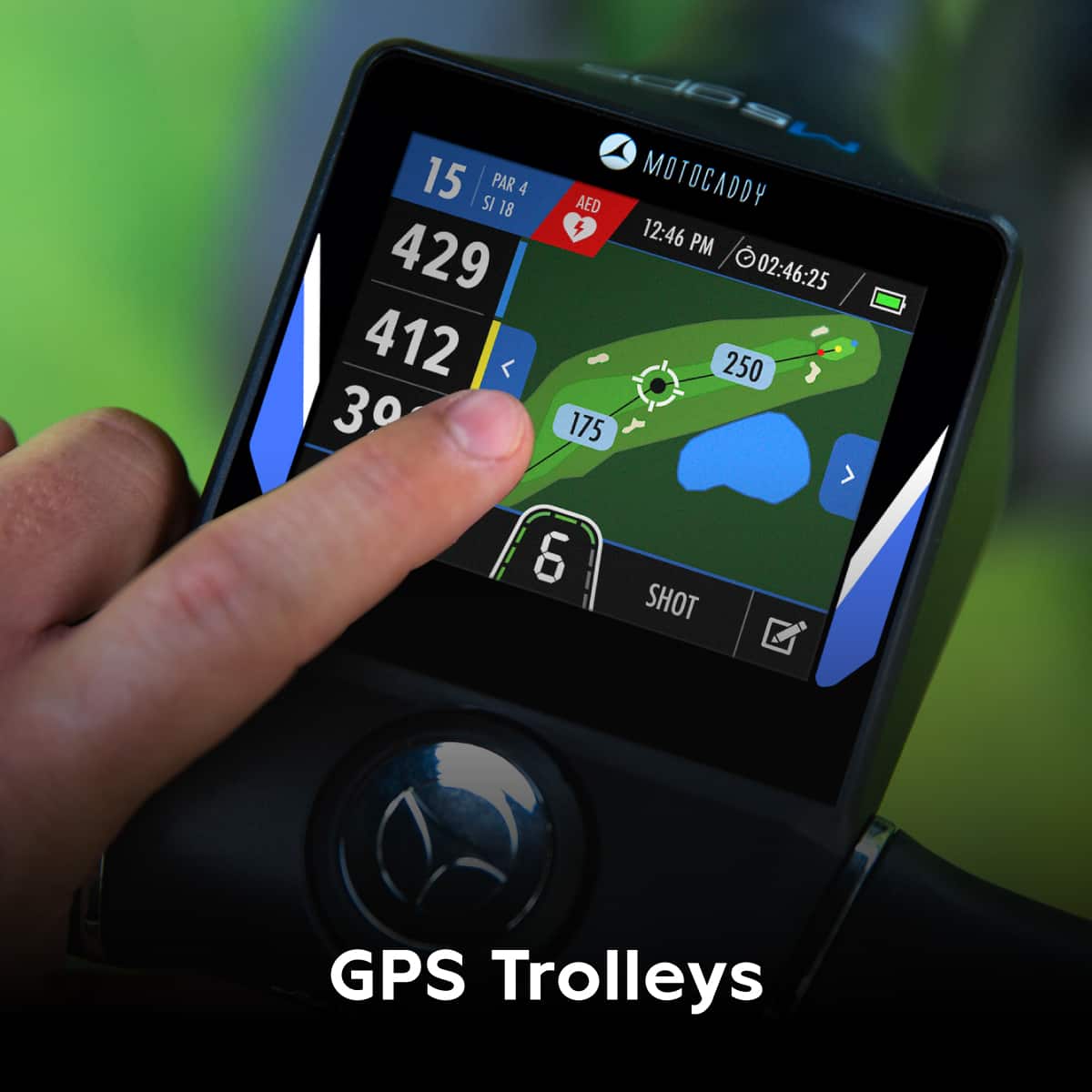 Motocaddy GPS Trolleys
Introducing our exclusive lineup of Motocaddy GPS-equipped electric golf trolleys. Choose from the S5, M5, and M7 models, each equipped with cutting-edge technology, and also explore the DHC (Down Hill Control) variations available for each model.
Step into the world of the award-winning Motocaddy built-in GPS, a revolution in golf trolley technology. The Motocaddy GPS system boasts a seamless integration of GPS capabilities into its super-responsive 3.5" touchscreen display. With access to 40,000 pre-loaded courses, you'll have precise distances to the front, middle, and back of the greens, along with crucial hazard information. The trolley also enables you to dynamically adjust the flag position, giving you the ultimate advantage on the course.

Motocaddy GPS trolleys feature a built-in clock, round timer, and score tracking, allowing you to keep precise records of your performance. Additionally, you can easily access the par and stroke index for each hole, measure shot distances accurately, and benefit from automatic hole advancement and a battery meter to stay informed throughout your round.

Life-Saving Technology
Safety takes center stage with Motocaddy, offering a feature that can potentially save lives. In partnership with Heart Research UK, the trolley can indicate the locations of on-course AEDs (Automated External Defibrillators) and provide CPR instructions for anyone facing a cardiac arrest. This life-saving capability has already been embraced by over 700 golf clubs across the UK.

Stay Connected and Updated
Stay connected on and off the course with smart connectivity features. Connect the trolley to the free Motocaddy GPS app via Bluetooth and receive important smartphone notifications, including missed calls, texts, emails, as well as alerts from popular apps like WhatsApp and Facebook.

In summary, our Motocaddy GPS-equipped electric golf trolley range offers unmatched features and capabilities. Whether you opt for the M5 GPS, S5, M7, or their DHC variations, you'll be equipped with cutting-edge technology, ensuring an elevated and safe golfing experience. Stay connected, stay informed, and take your golf game to new heights with Motocaddy GPS.